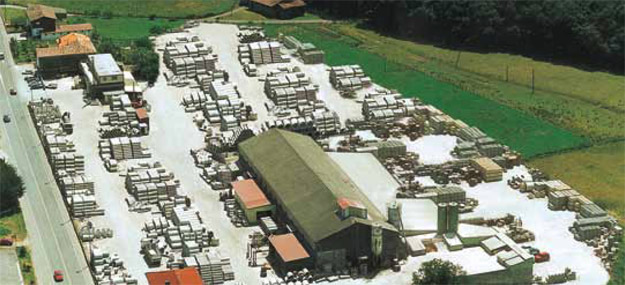 ALBERDI is one of the leading manufacturers in concrete products for public works, sanitation, urbanisation and building.
As leaders in the sector we have an extensive catalogue of solutions in concrete. In our range of products you will find piping in mass and reinforced concrete, reinforced concrete jacking pipes, precast concrete manholes, frames of reinforced concrete, containment systems - protection barriers with the CE marking, concrete inspection chambers, concrete paving, concrete kerbs and paving stones, concrete blocks and special concrete pieces.
Our products, highly resistant and durable, are an economical and sustainable option. In our manufacturing processes we rigorously comply with environmental law, monitoring, preventing and reducing emissions and encouraging recycling and the reuse of waste.
ALBERDI goes back six decades, and combines notable production and management that always has an eye on innovation. Starting out as a family business, it was already exclusively focused on the manufacture of precast concrete, responding to an increasing demand for quality products.
In constant growth, PREFABRICADOS ALBERDI has become a leader in the sector, increasing its area of influence, and has worked on a great many public works and infrastructure projects, as well as building and town planning construction, such as the urbanisation of the Guggenheim Museum and the Euskalduna conference centre in Bilbao.
Our commitment to innovation and the development of the company can be seen in the ongoing incorporation and development of new products and solutions in concrete.
Combining family tradition and technological modernity, the values of quality, service, responsibility and professionalism have made it possible for ALBERDI to become a reference in precast concrete and to continue enjoying the confidence of its customers.