DESCRIPTION AND USES OF THE CONCRETE MANHOLE BASES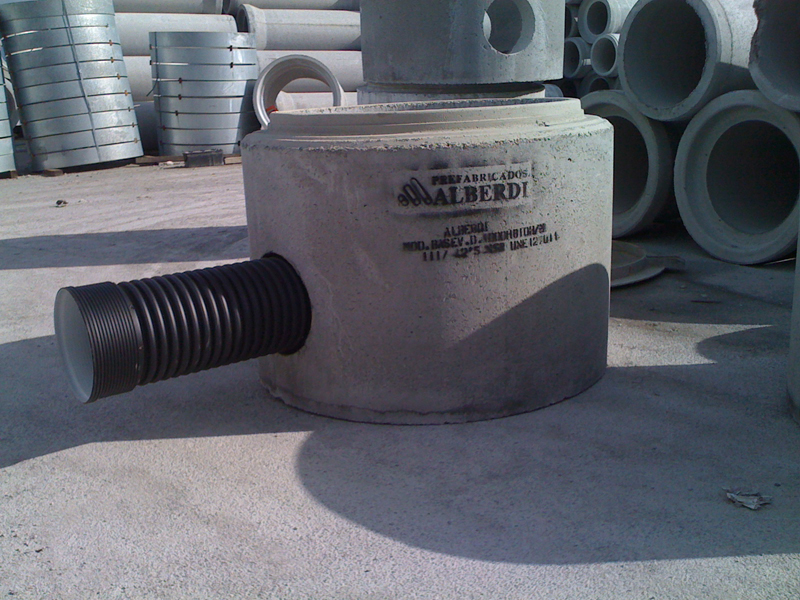 Precast concrete base modules are vertical elements that are made up of a base, with or without a shoulder, fitted with flexible gaskets to ensure a watertight connection with the pipelines and other modular parts. They may also consist of polypropylene steps integrated in the form of a stairway to allow access to and maintenance of the pipeline.
In addition to joints with elastomeric sealing gaskets, every prefabricated concrete manhole may also have various pins to facilitate transport, loading and unloading and the positioning of the concrete manhole bases on-site, providing greater speed, agility and safety in the execution.
The methods used to manufacture these elements and the use of high quality materials fully guarantee the quality, durability and function of these products.
The concrete manhole bases by PREFABRICADOS ALBERDI, S.A. are manufacture according to the layout of each sewer, and different inlet and outlet angles with different water sheet shoulder measurements can be combined. At the same time, dependent on the type of pipes, there can be more than one inlet or outlet in the module base.
Due to Royal Decree 1630/1192 entering into effect through European Directive 89/106/CE on the provisions for the free movement of construction products, it is established that the elements that make up the manholes or inspection chambers must carry the CE marking complying with the provisions of the current valid standard, UNE EN 1917. This is why at PREFABRICADOS ALBERDI S.A. we mark all our bases accordingly.
TECHNICAL DATA: CONCRETE MANHOLE BASES
PRODUCTS: CONCRETE MANHOLE BASES
PRODUCT PRESENTATION
The concrete manhole bases by PREFABRICADOS ALBERDI S.A. are marked with the following:
Name of the manufacturer
Destination site (if necessary)
Nominal diameter
Concrete: mass (HM) or reinforced (HA)
Manhole serial number (if necessary)º
Inlet and outlet of the connections (if applicable)
Regulations: UNE EN 1917